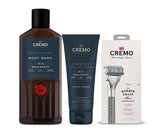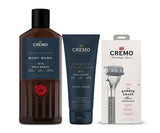 Palo Santo Shave & Body Wash Bundle
 Our premium Palo Santo Shave & Body Wash Bundle contains our Body Wash, Shave Cream & Barber Grade Quality Razor.
Our sophisticated Palo Santo scent contains energising and purifying powers, with notes of Bright Cardamom, Dry Papyrus and Aromatic Palo Santo. The rich, lathering body wash has a perfectly balanced premium formula that'll help keep you clean and thoroughly moisturised throughout the day. 

Palo Santo Shave Cream contains our original formula that fights razor burn and skin irritation.  Cremo contains unique molecules that become impossibly slick when mixed with water, so your blade can glide effortlessly over skin. You'll enjoy a clean, comfortable shave and astonishingly smooth skin while fighting nicks, razor burn and irritation.

The Cremo Barber Grade Razor is designed to the highest standards – ours. Each cartridge features five durable blades, three layers of comfort coating, a coated guard bar and lubricating pools of Cremo's famous impossibly slick Shave Cream formula which helps fight razor burn, nicks and irritation for an astonishingly close and comfortable shave.