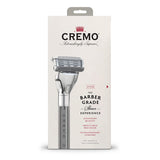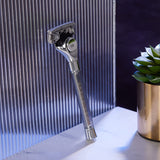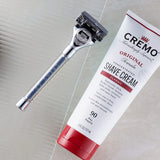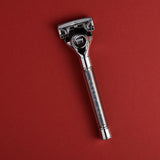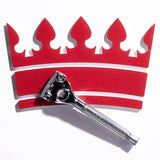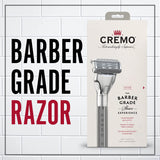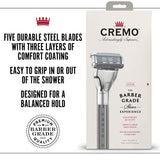 Cremo Barber Grade Razor
Get that smooth, barbershop shave in the comfort of your own home

The Cremo Barber Grade Razor is designed to the highest standards – ours. Each cartridge features five durable blades, three layers of comfort coating, a coated guard bar and lubricating pools of Cremo's famous impossibly slick Shave Cream formula which helps fight razor burn, nicks and irritation for an astonishingly close and comfortable shave. A stylish, weighted handle promotes proper balance, maximum grip and increased control. For those finishing touches, an integrated pull-back trimmer provides precise edging and shaping of facial hair and hard-to-reach areas like under your nose. We put our all into this razor. Because the best shave of your life doesn't happen by cutting corners.

Size: 1 razor with extra refill.
Lubricating pools infused with Cremo's legendary Shave Cream
Five durable steel blades with three layers of comfort coating
Pull-back trimmer for impeccable edging and shaping
Easy to grip in or out of the shower
Designed for a balanced hold Stylish, modern design you'll be proud to display
Barber-grade quality
Wet skin and apply your shave cream of choice. We, of course, suggest Cremo Shave Cream for the true Barber Grade Experience. But no pressure
Shave accordingly
If you need a shaving refresher, check out our YouTube channel. It's filled with all kinds of helpful how-tos.