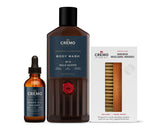 Palo Santo Beard Oil & Body Wash Bundle
 Beard Boldy with the Palo Santo Beard Oil & Body Wash Bundle. 
Our premium Palo Santo scent known for its energising and purifying powers, has notes of Bright Cardamom, Dry Papyrus and Aromatic Palo Santo. Available in a rich, lathering body wash, this perfectly balanced premium formula helps keep you clean and thoroughly moisturised.
Palo Santo Beard Oil lightweight formula contains premium moisturisers, including Coconut Oil and Aloe, that will help soothe itchy beard and tame unruliness without feeling heavy or greasy - so you can enjoy a smooth path to beard glory.
This grooming bundle comes with a Beard brush ideal for grooming, shaping and styling beards of all lengths. 
Unlike synthetic brushes, its firm, natural sisal bristles absorb and evenly distribute product and detangle even the toughest knots. The ergonomic wood handle adds style and fits perfectly in your hand.